ABOUT BOSTON MINI MAKER FAIRE
First, the details:

For Whom: All ages, especially kids 5-18 and adults
When: Saturday, July 23, 2016, 10 am-5pm
Where: Boston Children's Museum
308 Congress Street, Boston, MA, 02210
Tickets are on sale now! Click here to purchase.

To contact us, please write:
info (AT) makerfaireboston (DOT) com.
On July 23, 2016, Boston Children's Museum is proud to host the city's first official Maker Faire. Come meet the teams and machines from ABC's hit show Battlebots. Say hello to R2D2 and BB8. Explore Japanese weaving and woodworking. See 3D printers in action. And most of all, come make something amazing yourself! With 80 Makers and performers at the Boston Mini Maker Faire, you are sure to find a world of inspiration and wonder.
Part science fair, part county fair, and part something entirely new, Maker Faire is an all-ages gathering of creative doers – tech enthusiasts, designers, educators, tinkerers, hobbyists, engineers, science clubs, authors, artists, crafters, students, commercial exhibitors, and more. All of these "makers" come to Maker Faire to show what they create with their bare hands and bold minds, and to share how they do it, why they do it, and what they learn. Maker Faires are community-based learning events that inspire everyone to think creatively and innovatively, and to connect with people and projects in their local community.
Maker Faire is primarily designed to be forward-looking, showcasing makers who are exploring new forms and new technologies. But it's not just for the novel in technical fields; Maker Faire features innovation and experimentation across the spectrum of science, engineering, art, performance, and craft. Maker Faire is a gathering of fascinating, curious people who enjoy learning and who love sharing what they can do. It's a venue for makers to show examples of their work and interact with others about it. Many makers say they have no other place to share what they do. DIY (Do-It-Yourself) is often invisible in our communities, taking place in shops, garages and on kitchen tables. It's typically out of the spotlight of traditional art or science or craft events. Maker Faire makes visible these projects and ideas that we don't encounter every day.
The Boston Mini Maker Faire is a kind of marketplace of possibilities, where both children AND adults will be exposed to the amazing, the ingenious, and the captivating; where you can shop around for creative endeavors you may not have thought possible. Children will find that future self they can aspire to, whether it be an artist, engineer, hobbyist or world-changing inventor of marvelous things. Adults will find inspiration to spark their own creativity. And parents will see their kids in a new light, as they try, test, and stretch their minds in new and exciting directions. And most of all – it will be a whole lot of fun.
About Maker Faire:
Maker Faire is the Greatest Show (and Tell) on Earth—a family-friendly showcase of invention, creativity and resourcefulness, and a celebration of the Maker Movement.  It's a place where people show what they are making, and share what they are learning.
Makers range from tech enthusiasts to crafters to homesteaders to scientists to garage tinkerers.  They are of all ages and backgrounds. The aim of Maker Faire is to entertain, inform, connect and grow this community.

The original Maker Faire event was held in San Mateo, CA and in 2016 celebrated its eleventh annual show with some 1300 makers and 150,000 people in attendance. World Maker Faire New York, the other flagship event, has grown in five years to 900+ makers and 90,000 attendees.  Thirty-two larger scale Maker Faires occur in cities around the world—Detroit, Atlanta, Berlin, Paris, Rome, Tokyo, and Shenzhen to name a few— and over 150 community-driven, independently organized Mini Maker Faires are now being produced in the United States and in 34 other countries around the world—including right here in Boston.
Maker Faire is supported by Make: Magazine and Maker Media.
About Make: Magazine: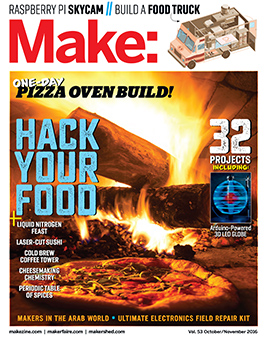 Make: is the first magazine devoted entirely to Do-It-Yourself (DIY) technology projects. Make: unites, inspires, informs, and entertains a growing community of resourceful people who undertake amazing projects in their backyards, basements, and garages. Make: celebrates your right to tweak, hack, and bend any technology to your will.  Download a free issue here.
Besides the magazine and the Faire, Make: is: